VA Streamline/IRRRL Q and A
The VA streamline refinance is the quickest, cheapest, and most beneficial type of refinancing for Veterans who currently have a VA home loan. VA refinance rates are at historic lows. If you're interested in reducing your interest rate and monthly payment, it's worthwhile to check current VA streamline rates.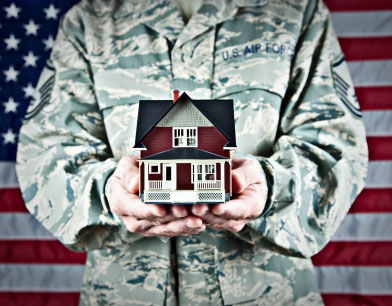 For a VA streamline rate quote, call 888-920-7627 to speak with a mortgage expert who can tell you how much you can save.
What is a VA Streamline Refinance Loan?
The VA streamline allows those who currently have a VA loan to refinance into a new VA loan with a lower rate and payment and do it quickly and easily.
This loan type also called the Interest Rate Reduction Refinancing Loan (IRRRL) eliminates many of the roadblocks that hold up applicants on other types of refinances. The VA Streamline is much easier because of these attributes:
No pay stubs or W2s required

No bank statements required

No home appraisal required

There is no VA streamline refinance LTV limit because no appraisal or value is required.

Underwater homes are eligible

The required funding fee is lower than for VA purchase loans

Closing costs can be wrapped into the new loan, meaning little or no out-of-pocket expenses
Why is this loan so easy to obtain? The VA already has already guaranteed the loan and is responsible if the borrower defaults. You are more likely to make payments on time if your payments are lower. It makes sense to make qualifying for this loan easy.
VA streamline refinances rates are at historic lows. Many Veterans who have purchased or refinanced a VA home loan in the past few years should check today's VA rates to make sure they have the absolute lowest rate and monthly payment possible. To check today's VA mortgage rates, simply call 1-888-920-7627 to speak with a pre-screened VA-approved loan specialist.
Eligibility
If you're interested in a VA Streamline (IRRRL) you must currently have a VA loan. Your mortgage professional will pull a Prior Loan Validation from VA's website to prove the current VA loan status.
On-Time Payments
In addition, you are required to have made on-time payments over the past year, with no more than one payment that was 30+ days late in the past 12 months. If you did have a late payment, say, 8 months ago, you may want to wait 4 months before applying. But other programs may be available.
Lower Payments or other Benefit
The VA streamline must put the borrower in a better financial situation, or the lender won't approve the loan.
The new payments on the VA streamline must be lower than your current payments. There are a few exceptions, like when you:
Refinance an adjustable-rate mortgage (ARM) to a fixed-rate mortgage.

Refinance into a shorter term

In all cases except for an ARM refinancing into a fixed rate, the interest rate must decrease.
To prove the benefit of the refinance, your lender will provide you with a form stating the interest rate and payment of your current loan compared to the rate and payment of the new loan. The form will also state how long it will take the refinance to pay for itself. For instance, if the refinance will cost you $3000 in closing costs, but you are saving $300 per month, you will make back the cost of the refinance in 10 months. Be sure to review this form to make sure you are receiving an adequate benefit from the refinance. Determine your refinance payback time frame.
Occupancy
There are still instances where you still qualify if you don't live in the home. For example, if you lived in the home, then relocated and rented it out, you still may be able to apply for a VA streamline. Speak with your lender for more information.
VA Streamline Funding Fee
This is required on most purchases and refinances VA loans to defray the costs of the VA home loan program. In most cases, the VA Streamline funding fee is 0.50% of the new loan amount. This fee can be financed into the loan so that the veteran does not have to pay it at the closing of the loan.
The fee is waived for veterans who are disabled due to service-related injuries. The VA makes this determination and provides it to the lender.
The 0.50% fee is much less than the 2.15% or 3.3% usually required for purchase or VA cash-out refinance loans. Speak to one of our VA experts at 888-920-7627 or complete our contact form online.
Subsequent Use
The VA streamline is not viewed as subsequent use of your VA home loan benefit. You will not incur the 3.3% subsequent use fee because you used the VA streamline refinance program.
Entitlement
This loan does not use any of your VA home loan entitlement, nor do you have to prove the remaining entitlement to obtain a VA streamline. Your remaining VA entitlement after the purchase of the home, if any remains, does not change when you obtain a VA streamline.
Loan Terms and VA Streamlines
As discussed previously, your VA loan term may decrease, for instance, from 30 years to 15 years. In this case, it's OK that your payment increases.
You can also refinance a 15-year loan into a longer-term loan. However, keep in mind that the most your loan term can increase is 10 years. So if you currently have a 15-year term, the longest loan you can refinance into will be 25 years.
Can I refinance my home if it's Underwater?
Yes. The VA streamline does not require an appraisal, therefore no value is established for the property. The basis for the loan is the existing VA loan, not the current value of the property.
Do lenders impose additional rules for VA streamlines?
Yes. Often, lenders will impose "overlays," which are additional guidelines on top of VA's requirements. Each lender has the right to establish its own standards for lending on VA loans.
For instance, the VA does not require an appraisal or credit report. But almost all lenders require a credit report, and many require an appraisal for a VA streamline. If you are worried about the value of your home or the cost of the appraisal, find a lender who will complete the loan without an appraisal.
Do I need my COE for a streamline?
No. Your Certificate of Eligibility (COE) is needed for your VA home purchase, but not for a streamline. Since you already have a VA loan, most lenders will simply request a prior loan validation directly from the VA's website in lieu of a COE.
Can I add or remove anyone from the mortgage with a VA Streamline?
In some cases, parties can be added or removed. The general rule of thumb is that the veteran who was eligible for the original loan must remain on the loan. The exception is when a spouse and veteran are on the existing loan, and the veteran passes away. In this case, the spouse may be able to refinance with a VA streamline without the eligible veteran.
What if the VA streamline raises my payment?
The payment is allowed to rise as a result of the VA streamline in some cases. In the very rare case that the new payment goes up 20% or more because of these features, the lender may ask for full income documentation. Usually, the payment does not rise that dramatically because of the below factors:
Because fixed-rate mortgage generally has higher interest rates than adjustable-rate mortgages (ARMs), your payment may go up. But, often it is a good trade-off to know that your payment won't change over the life of the loan like it can with an ARM.
In some cases, your rate and payment may even go down if your ARM interest rate is higher than today's low fixed rates.
The VA streamline allows you to refinance from a 30-year loan into a shorter term, such as a 15-year term. In this case, it's OK for your payment to rise as long as your interest rate goes down. Since shorter-term loans pay off faster, payments are bigger than loans with longer terms.
What if I have a Second mortgage?
Second mortgages on VA loans are fairly rare, since VA loans do not require a down payment, and therefore not enough equity exists to obtain a second mortgage.
In the case that there is a second, the new VA loan from a streamline can't pay it off. A VA cash-out loan would be required. Any additional loans on the property need to be "subordinated," or put underneath on title, behind the new VA loan.
Can I get cash at closing with a VA streamline?
No. VA streamlines are meant only to pay off the existing loan and closing costs. The only exception is when a veteran prepays for energy-efficient improvements and needs to be reimbursed for actual costs.
What are the closing costs on a VA streamline?
Closing costs vary greatly from lender to lender. Borrowers should shop around to find the best interest rate and closing cost combination for them. There are certain closing costs the veteran can and cannot pay on a VA loan. Generally, rules for VA streamline closing costs are the same as for purchase closing costs, except that the veteran may not finance more than two discount points (2%) into the new loan. Discount points are points paid to reduce the interest rate. For a closing cost quote based on your specific situation, call 800-585-6563.
Can the lender pay my closing costs instead of including them in the new loan?
In some, cases, the banks can give you a higher interest rate and pay your closing costs, and sometimes even your funding fee. The closing costs aren't added to the loan amount; the lender pays them for you by using the excess profit from the loan. Usually, this works best when rates are very low, or if you currently have a high-interest rate. In these cases, you lower your rate substantially, despite the rate hike given to you to pay for fees.
For instance, if market rates are 3.5%, your lender might give you a 3.875% rate and pay all your closing costs. You still end up with a great rate and don't add much to the loan balance. This isn't always an option, though, and often closing costs need to be wrapped into the new loan or paid in cash.
Can I skip a payment by getting a VA Streamline?
Yes, 2 payments can be skipped. Depending on the closing date of the new loan.
What's my Next Step?
Call 888-920-7627 or simply complete our contact form and a VA loan professional will contact you and guide you through the process and answer any questions.
Source of information on this page: VA Handbook